Pre-Orders are open until 15 October 2019 for the Alte Künste – Advent Calendar!
Together with Stefanie Bold Design and Atelier Marie-Lucienne we have created a fabulous treat for you: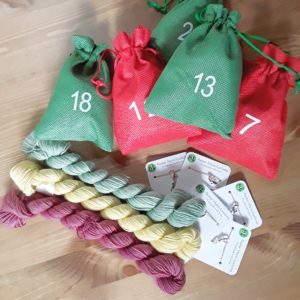 24 x 0.7oz natural dyed Blue Faced Leicester mini-skeins – one for each day of the advent calendar!
Every advent sunday and Christmas Eve we added stitch markers by Atelier Marie-Lucienne.
On top the knitting pattern NorthernLights by Stefanie Bold Design is included on the 24th. Stefanie has written this pattern for the Advent Calendar 2019!The advent calendar 2019 is limited to 30 sets which are available via pre-order only!
Shipping will be mid-November, so that you get your advent calendar in time for December.
>>click here for further details<<
---