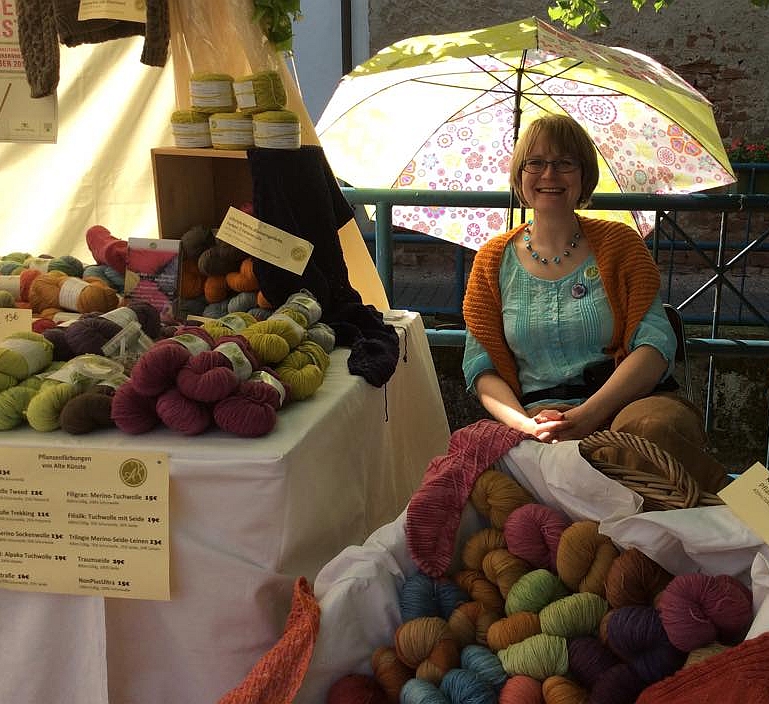 Meet Alte Künste – Ancient Arts in real life!
I am a vendor at the following yarn-festivals. There you can touch and feel my natural dyed yarn. I am always excited to meet the people behind email-addresses or instagram-nicknames:
10. & 11. March 2018 – WollLandia in Kieselbronn near Pforzheim.
7. & 8. April 2018 – Allgäuer Nadelstiche, Oberstdorf
14. & 15. April 2018 – 1. Hohenloher Yarnfestival, Blaufelden
4. – 6. Mai 2018 – Nadelwelt, Fairground Karlsruhe
2. & 3. June 2018 – Oppenheimer Yarnfestival (formerely known as Schwabsburger Wollfest)
18. & 19. August 2018 – 3. Tuchmarkt at open air museum Hessenpark, Neu-Anspach
6. & 7. Oktober 2018 – 3. Westerwälder Yarnfestival, Westerburg
More festivals & dates are updated continously, so stay tuned!
Workshops
Interested in trying things out yourself?
Stirring the dye-pots or whirling the spindle?
Ancient Arts occationally offers the following workshops, which you can book for a group or your event:
Spinning with the hand-spindle and the spinning-wheel
Spinning for kids
Spinning in myths and fairy tales
Introduction to natural & plant dyeing
Shades of Blue: Easy ways to Indigo-Vats
You want to book a specific workshop for your group? No problem, I am happy to travel and teach at your place. Just use the contact form to get in touch with me and we discuss the details.