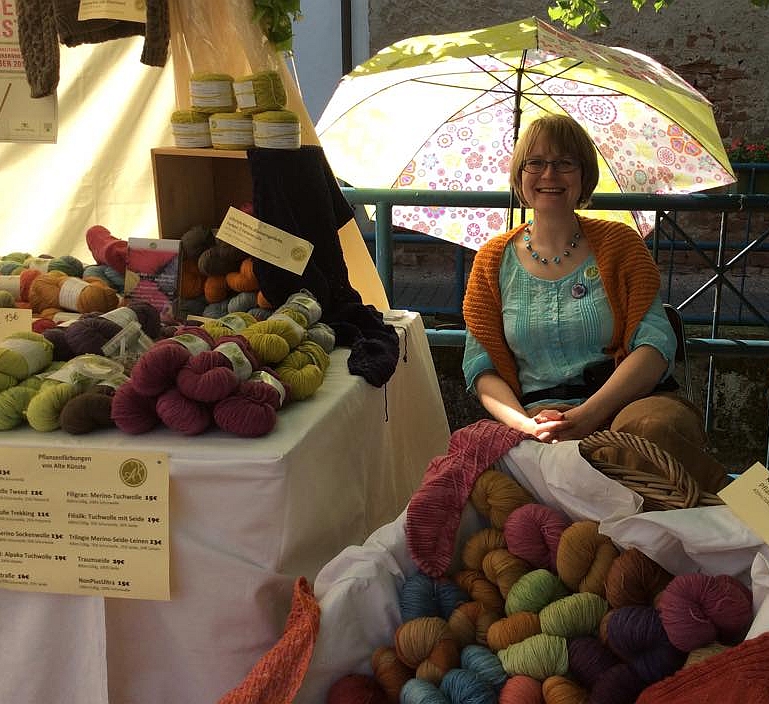 Meet Alte Künste – Ancient Arts in real life!
I am a vendor at the following yarn-festivals. There you can touch and feel my natural dyed yarn. I am always excited to meet the people behind email-addresses or instagram-nicknames:
9. & 10. March 2019 – WollLandia 2 in Kieselbronn
23. & 24. March 2019 – Allgäuer Nadelstiche, Oberstdorf
3. – 5. May 2019 – Nadelwelt (Needleworld), Karlsruhe
10. – 12. May 2019 – Natural Dye Weekend with handherzseele
1. – 2. June 2019 – Oppenheimer Wollfest (Oppenheim Yarnfestival)
15. – 16. June 2019 – Open Musem Road, Rüssingen
23. June 2019 – 1. Auersmacher Wollfest (Auersmach Yarnfestival)
More festivals & dates are updated continously, so stay tuned!
Workshops
Interested in trying things out yourself?
Stirring the dye-pots or whirling the spindle?
Ancient Arts occationally offers the following workshops, which you can book for a group or your event:
Spinning with the hand-spindle and the spinning-wheel
Spinning for kids
Spinning in myths and fairy tales
Introduction to natural & plant dyeing
Shades of Blue: Easy ways to Indigo-Vats
You want to book a specific workshop for your group? No problem, I am happy to travel and teach at your place. Just use the contact form to get in touch with me and we discuss the details.
This website is using cookies. We use cookies to ensure that we give you the best experience on our website. If you continue without changing your settings, we will assume that you are happy to receive all cookies on this website. Data Protection
This website is using cookies. We use cookies to ensure that we give you the best experience on our website. If you continue without changing your settings, we will assume that you are happy to receive all cookies on this website.